Introduction
---
This page lists some of the real-life locales and events related to the Gintama anime/manga series that Gintama fans may wish to follow up should they happen to be in Japan. Fans are reminded that as these places are actual physical locations in Japan, the addresses may change over time, and any visits planned to these places should be thoroughly researched beforehand to see if the addresses are still valid.
Events
---
Jump Festa is an annual event that showcases the ongoing manga series that are being serialised in the Shueisha's family of manga publications, including Weekly Shounen Jump, Jump Square, etc. It is typically held in December, but the naming of the festival always follows the following year, e.g. Jump Festa 2010 is actually held in December 2009. Some photographs of what a typical Jump Festa event is like can be seen here.[1]
Locations
---
Most of the locations listed below are within Tokyo and its surrounding suburbs, with the exception of some Jump Shop outlets in the other cities.
Jump Shop
Shueisha has opened a series of shops specializing in the sale of Shueisha-only publications such as Weekly Shounen Jump, and merchandise related to Shueisha's ongoing manga series such as Gintama. Merchandize for Gintama include Bandai products, Sunrise's DVD episodes, music CDs etc. As such, the shop's contents are likely to change over time as and when certain series go off or come on. The Jump Shops have a mascot by the name of Janta ジャンタ, designed by Bird Studio, headed by 鳥山明 Toriyama Akira, more well-known as the creator of Dragon Ball, Dr. Slump series and most importantly, the Dragon Quest game series.
Current Locations of Jump Shops as of 10 Jan 2010.[2]

---




Poster showing the current locations of Jump Shop, as of 10 Jan 2010.[3]

---

---

Note: Current location of life-size Sadaharu is in the Nagoya outlet, moved there from the Osaka Outlet in March 2009 thereabouts as of 10 Jan 2010.
Shueisha
This section is a stub.
Please help to expand it, thank you.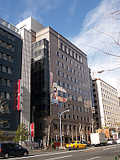 集英社
Shueisha's headquarters. Currently 'One Piece' takes centrestage on their building front (10 Jan 2010).
Shueisha's office is not open to public and the reception lobby area has no displays that may be of interest to fans. The building next to it (on the left of the photo) is the office building of 小学館 shougakukan, a one-time sponsor of the Gintama anime series, more well-known as the publisher of Doraemon series.verification/corroboration needed
TV Tokyo
This section is a stub.
Please help to expand it, thank you.

TV Tokyo's headquarters
Unlike the corporate headquarters of Fuji TV in Tokyo, Odaiba, TV Tokyo's headquarters is strictly not open to public visitors. TV Tokyo holds the broadcasting rights to the anime series.verification/corroboration needed
Kami-igusa Station
Kami-igusa Train Station
上井草駅.
The Gundam statue featured in Episode 165 is on the left.
Sunrise Studio is currently located further down along this main street (as of 10 Jan 2010), which is decorated with Gundam images.
Kami-igusa Station 上井草駅 is the nearest train station to alight to get to Sunrise Studio. This station was featured in the anime series in Episode 165, which aired on 9 July 2009. Seen on the left of the left photo is the Gundam statue that was also featured in the same episode.
More information and updates in Japanese can be obtained from this area's website at www.kami-igusa.com (Jap).
Sunrise Studio
This section is a stub.
Please help to expand it, thank you.
| | |
| --- | --- |
| | |
| Sunrise Studio building | Signboard showing the current series in production. Gintama is the top-left poster. |
| | |
| Though not officially open to public, visitors can enter the small lobby which is filled almost exclusively with Gundam-related paraphernalia. The lift lobby to the left (outside of photo) is out of bounds. | The only concession to Gintama in the Sunrise Studio's lobby are these 5 Voice I-Dolls. |

Sunrise Studio is the anime studio responsible for Gintama the anime series and many artwork related to merchandise such as calendars, collectible cards, etc. Gundam, being their flagship series, takes centrestage in their corporate marketing, and even the main shopping street of Kami-igusa area is dominated by the RX-78 images, the titular mobile suit of that series.
Bandai
This section is a stub.
Please help to expand it, thank you.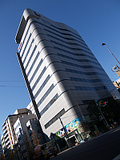 Bandai's headquarters, Building number 1. Building 2 is diagonally across the same street. First floor lobby contains some product displays, the biggest display being Tamagotchi toys.
Fans may be disappointed that Bandai's headquarters has such a limited product display on ground floor, possibly due to shortage of space as the headquarters is spread across 2 buildings, with the second chocolate-brown coloured building located diagonally across the same street.
---
↑

Only Gintama-related activities in the Jump Festa are showcased in this wiki.

↑ Please note the locations of the shops are subject to change. Fans who wish to visit these shops are advised to check Shueisha's official website for updates. Click on the individual map for English versions of the map and directions.
↑

The Jump Shop outlet in Tokyo Odaiba closed down in around Sep 2009.