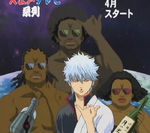 Old Yorozuya 旧万事屋
Kanemaru (金丸), Ikesawa (池沢) and Furuhashi (古橋) were the predecessors of the current Yorozuya members Shinpachi (新八),Kagura (神楽) and Sadaharu (定春) respectively, making their first appearance in Episode 138.
After Kanemaru and Ikesawa started going out and Gintoki became the third wheel, Gintoki and Furuhashi threw the two over a bridge. Gintoki and Furuhashi then formed a duo. However, once Gintoki realized Furuhashi and the woman were going out, he also threw them over the bridge.[1] The anime only shows Kanemaru and Ikesawa going out.
Name of 'fleshy woman' Catherine's position ?
Members
References
Ad blocker interference detected!
Wikia is a free-to-use site that makes money from advertising. We have a modified experience for viewers using ad blockers

Wikia is not accessible if you've made further modifications. Remove the custom ad blocker rule(s) and the page will load as expected.