Please be aware, before progressing any further this site contains heavy SPOILERS.


The Gintama wiki was created on March 22, 2009 and is currently housing 1,568 articles, and 3,834 files.
We need YOUR help to expand our content and add more articles!
---
---
| | |
| --- | --- |
| | If you're new to Wikia, please use the above links to get started. If you already have editing experience, and you have an article relating to Gintama to contribute, use the box below to create it: |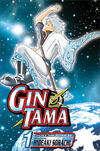 The Gintama manga is authored by
Sorachi Hideaki
, and the anime series is based on the manga. The manga was first serialized in Weekly Shounen Jump, interspersed with the occasional episode created by the anime creators themselves. In accordance to the manga's original premise, the series is a part-period drama, part science-fiction and 100% comedy; with elements of space monsters and aliens mixed with historical samurai and ninjas.


The Murata Family is a famous swordsmith family, with father, older son and younger daughter all practising the same trade. Father Murata Jintetsu was known as the greatest swordsmith in Edo, for having made the famed Benizakura sword before his death.
Click here to view a different Random Character
As usual, the ruckus at Yorozuya is ongoing. All of a sudden, a courier-scooter crashes into Snack Otose downstairs, with the delivery-man seriously injured. Yorozuya are then tasked to deliver a 'mysterious' package to the Inuisei Embassy ...
Episode 5
Click here to view a different Random Episode


Official Web sites for the Gintama Series
Other Gintama wiki sites (Other Lang)
Other Gintama wiki sites (ENG)


Loading RSS data...



Create blog post
Has anyone noticed that Sakamoto's voice was not of his regular voice? Like I don't know at the moment and I just need confirmation. I also noticed it with Mutsu and Umibozu. Can someone please clear…

Read more >

Is it any point for writing in the Trivia sections that a character's Japanese voice actor voices characters from other anime? Most of the Trivia sections from other anime that I happened to read don…

Read more >

That went surprisingly fast. Looks like they plan to finish the arc next week... Was expecting it to be over this week, but oh well. Either way, the episode was pretty good, but last weeks was way be…

Read more >

Okay, for some unknown reason there is a problem with parsing the infobox on all character profiles. Does anyone here knows how we can fix this problem? Your help will be very much appreciated.

Read more >
See more >


Gintama is one of my favourite anime series & I am:
Ad blocker interference detected!
Wikia is a free-to-use site that makes money from advertising. We have a modified experience for viewers using ad blockers

Wikia is not accessible if you've made further modifications. Remove the custom ad blocker rule(s) and the page will load as expected.