Please be aware, before progressing any further this site contains heavy SPOILERS.

The Gintama wiki was created on March 22, 2009 and is currently housing 1,330 articles, and 2,553 files.
We need YOUR help to expanded our content and add more articles!
---
---
| | |
| --- | --- |
| | If you're new to Wikia, please use the above links to get started. If you already have editing experience, and you have an article relating to Gintama to contribute, use the box below to create it: |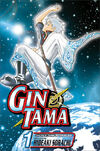 The Gintama manga is authored by Sorachi Hideaki, and the anime series is based on the manga. The manga was first serialized in Weekly Shounen Jump, interspersed with the occasional episode created by the anime creators themselves. In accordance to the manga's original premise, the series is a part-period drama, part science-fiction and 100% comedy; with elements of space monsters and aliens mixed with historical samurai and ninjas.



Hiraga Gengai is Edo's greatest mechanic and inventor. His belief is that "The machines of men are armour, cannons and Caterpillars".
Click here to view a different Random Character

The Hard-boiled Detective - Chougorou of Kitsunebi brazenly issued an advanced notice that he will be stealing from the Edo Art Museum the famed Golden Tofu sculpture. Will Kozenigata and the Yorozuya gang be able to stop him? Read on ...
Episode 85
Click here to view a different Random Episode


Official Web sites for the Gintama Series
Other Gintama wiki sites (Other Lang)
Other Gintama wiki sites (ENG)


Loading RSS data...
Refresh
·
Read more >


Create blog post
Hello, I am new here, so I have a question. Do I have to ask for permission when I want to edit a page? I will only do minor modifications on some pages, and correct eventual grammar and spelling mis…

Read more >
See more >
BIRTHDAY(S)


Mashiroi Utsuzou
魔死呂威 鬱蔵
29 Jul / Leo



お誕生日otanjoubi

おめでとう
omedetou
ございます !!!
gozaimasu !!!


Gintama is one of my favourite anime series & I am: