Please be aware, before progressing any further this site contains heavy SPOILERS.

The Gintama wiki was created on March 22, 2009 and is currently housing 1,499 articles, and 3,512 files.
We need YOUR help to expanded our content and add more articles!
---
---
| | |
| --- | --- |
| | If you're new to Wikia, please use the above links to get started. If you already have editing experience, and you have an article relating to Gintama to contribute, use the box below to create it: |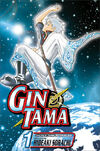 The Gintama manga is authored by
Sorachi Hideaki
, and the anime series is based on the manga. The manga was first serialized in Weekly Shounen Jump, interspersed with the occasional episode created by the anime creators themselves. In accordance to the manga's original premise, the series is a part-period drama, part science-fiction and 100% comedy; with elements of space monsters and aliens mixed with historical samurai and ninjas.


Umibouzu is the father of older son Kamui and younger daughter Kagura. He is renowned as the most powerful 'Alien Hunter' in the universe. His real name is not known, Umibouzu, literally Galaxy (a sea of stars) Monk is the nickname given in honour of his fighting prowess.
Click here to view a different Random Character

It is Yagyuu Kyuubei's 柳生九兵衛 birthday and a surprise party of sumptuous buffet has been thrown to celebrate her birthday. In the midst of the various dignitaries and celebrities who attended this feast were the unrefined motley crew of Yorozuya trio, Otae-chan, Hasegawa Taizou and Katsura Kotarou ...
Episode 154
Click here to view a different Random Episode


Official Web sites for the Gintama Series
Other Gintama wiki sites (Other Lang)
Other Gintama wiki sites (ENG)


Loading RSS data...


Create blog post
Is it any point for writing in the Trivia sections that a character's Japanese voice actor voices characters from other anime? Most of the Trivia sections from other anime that I happened to read don…

Read more >
See more >
BIRTHDAY BOY / GIRL

Takechi Henpeita
武市 变平太
27 Sep / Libra
お誕生日
おめでとう
ございます !!! Otanjoubi omededou gozaimasu !!!
-------------------------------------------------------------------------


Gintama is one of my favourite anime series & I am: