Please be aware, before progressing any further this site contains heavy SPOILERS.

The Gintama wiki was created on March 22, 2009 and is currently housing 1,390 articles, and 2,747 files.
We need YOUR help to expanded our content and add more articles!
---
---
| | |
| --- | --- |
| | If you're new to Wikia, please use the above links to get started. If you already have editing experience, and you have an article relating to Gintama to contribute, use the box below to create it: |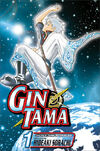 The Gintama manga is authored by Sorachi Hideaki, and the anime series is based on the manga. The manga was first serialized in Weekly Shounen Jump, interspersed with the occasional episode created by the anime creators themselves. In accordance to the manga's original premise, the series is a part-period drama, part science-fiction and 100% comedy; with elements of space monsters and aliens mixed with historical samurai and ninjas.



Yato literally means 'Night Rabbit', but the character of this tribe is far from being rabbit-like. Blood-thirsty Amantos whose killing instincts and insatiable hunger for supremacy leads them to keep on seeking out the best fighters in order to challenge them, even among their own kind. Their amazing fighting abilities and tremendous physical strength also meant that they are very difficult to defeat.
Click here to view a different Random Character

Yagyuu Chapter - Yagyuu Kyuubei has returned from his training to marry Otae-chan. Though Otae-chan goes with him voluntarily, it was with tears in her eyes. Shinpachi and Kondou then decide to challenge the Yagyuu Family to bring back Otae-chan ...
Episode 76
Click here to view a different Random Episode


Official Web sites for the Gintama Series
Other Gintama wiki sites (Other Lang)
Other Gintama wiki sites (ENG)


Loading RSS data...


Create blog post
Here I will be keeping track of my standards and the format I want to have each page be in.

FACT-based information. As few opinions as possible. Concise, easy-to-read. Precise vocabulary, used correct…

Read more >
See more >
BIRTHDAY(S)


Hachirou
八郎
3 Oct / Libra



お誕生日otanjoubi

おめでとう
omedetou
ございます !!!
gozaimasu !!!


Gintama is one of my favourite anime series & I am: