Please be aware, before progressing any further this site contains heavy SPOILERS.


The Gintama wiki was created on March 22, 2009 and is currently housing 1,293 articles, and 2,445 files.
We need YOUR help to expanded our content and add more articles!
---
---
| | |
| --- | --- |
| | If you're new to Wikia, please use the above links to get started. If you already have editing experience, and you have an article relating to Gintama to contribute, use the box below to create it: |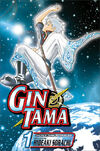 The Gintama manga is authored by Sorachi Hideaki, and the anime series is based on the manga. The manga was first serialized in Weekly Shounen Jump, interspersed with the occasional episode created by the anime creators themselves. In accordance to the manga's original premise, the series is a part-period drama, part science-fiction and 100% comedy; with elements of space monsters and aliens mixed with historical samurai and ninjas.





Ikumatsu is the owner of a ramen shop called hokuto shinken. She and her husband, Daigo intended to turn the ramen shop into the best in Edo, but her husband died due to Jouishishi's terrorist activities before they could do it.
Click here to view a different Random Character


New-comer pop-idol Terakado Tsuu and the leader of idol group 'Hansamu', Goemon were discovered to be in love! This news made the Imperial Guards extremely disappointed ...
Episode 30
Click here to view a different Random Episode


Official Web sites for the Gintama Series
Other Gintama wiki sites (Other Lang)
Other Gintama wiki sites (ENG)


Loading RSS data...
Refresh
·
Read more >


Create blog post
Lets get it started. So, first things first: I just created this because I can see that a lot of things are missing in this wikia and maybe the editors are almost not active here or are having proble…

Read more >
See more >
BIRTHDAY(S)


Hijikata Toushirou
土方 十四郎
05 May / Taurus



お誕生日otanjoubi

おめでとう
omedetou
ございます !!!
gozaimasu !!!


Gintama is one of my favourite anime series & I am: