Introduction
Edit
The female characters all gain weight and join a "fasting" camp at a temple to shed it off!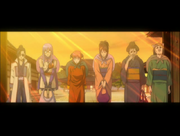 Characters
Edit
Otae is parodying Doraemon.
"Gian" is Goda Takeshi of Doraemon. In the movie, he help out his friends when they are in trouble, unlike his usual image of being a bully.
This line is said by Gon in the Hunter x Hunter series.
Ad blocker interference detected!
Wikia is a free-to-use site that makes money from advertising. We have a modified experience for viewers using ad blockers

Wikia is not accessible if you've made further modifications. Remove the custom ad blocker rule(s) and the page will load as expected.