Introduction
Edit
The spirit of Gintoki's sword appears to draw Gintoki, Shinpachi, and Kagura into his world to teach them the ultimate technique!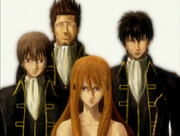 Kondou
,
Hijikata
, and
Sougo
are drawn into another world by a naked
goddess
of Victory! Their first response is to ignore her and instead arrest her for public indecency...
Characters
Edit
Parody of Zangetsu from BLEACH.
The girl which calls herself a goodness, looks really familliar to Inoue Orihime from bleach (hair colour and clips in her her)
When godness lovers are appering, one of them - shinigami looks fammiliar to Kurosaki Ichigo in Hollow Mask
Ad blocker interference detected!
Wikia is a free-to-use site that makes money from advertising. We have a modified experience for viewers using ad blockers

Wikia is not accessible if you've made further modifications. Remove the custom ad blocker rule(s) and the page will load as expected.