Introduction
Edit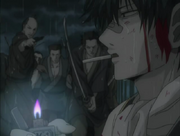 Mitsuba's
condition gets worse due to her sickness as
Hijikata
investigates her fiance and his connection to weapon smugglers. Meanwhile,
Sougo
deals with his past and
Gintoki
befriends Mitsuba.
Characters
Edit
Ad blocker interference detected!
Wikia is a free-to-use site that makes money from advertising. We have a modified experience for viewers using ad blockers

Wikia is not accessible if you've made further modifications. Remove the custom ad blocker rule(s) and the page will load as expected.