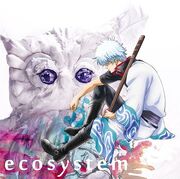 Gintama' Opening 2 (Gintama Opening 10)
Sung by: ecosystem
Lyrics (Kanji)
Edit
期待の裏には、予\想どおりの虚しさ 
あまりにも 強すぎて 受け入れ作業に時間をくって 
不具合でひどい頭痛 空回る日々 
一つも灰なんて 残しちゃイケない... 
目眩がする程、眩しいあの世界 
鋭く胸に突き刺さるよ 
取り乱して 今夜眠れない 
胸がざわついて 
半信半疑 泳いでみるのも、 
悪くないよ 嘘ばかりの中 
どんな場所でも 自分は変わりゃしないのに 
普通の幸せ、普通の暮らし、普通って何? 
目眩がする程、着せられたあの世界 
騙し合い 仇になって それでいいの? 
取り乱して 今夜 抜け出した 
弱音全部吐き出して 
泣きたいのに、泣けない理由は、 
まだ終わらない 僕の夢の中 目眩がする程、広がるあの世界 
必ず、掴む為 ここに立ってるよ 
取り乱して 今夜 駈けだした 
素直さは飾らないで 
そして 趣いたまま、 生きなさい 
最終的に求めるのは 君の腕の中がいい 
歪んでる声よ、灰になって 
Lyrics (Romaji)
Edit
kitai no ura ni wa, yosoudoori no munashi sa 
amarini mo tsuyosugite ukeire sagyou ni jikan wo kutte
fuguai de hidoi zutsuu kara mawaru hibi 
hitotsu mo hai nante nokoshicha ikenai 
memai ga suru hodo, mabushii ano sekai 
surudoku mune ni tsukisasaru yo 
torimidashite konya nemurenai 
mune ga zawatsuite 
hanshinhangi oyoi de miru no mo, 
warukunai yo uso bakari no naka 
donna basho demo jibun wa kawaryashinai no ni 
futsuu no shiawase, futsuu no kurashi, futsuutte nani? 
memai ga suru hodo, kiserareta ano sekai 
damashiai ada ni natte sore de ii no? 
torimidashite konya nukedashita 
yowane zenbu hakidashite 
nakitai no ni, nakenai riyuu wa, 
mada owaranai boku no yume no naka 
memai ga suru hodo, hirogaru ano sekai 
kanarazu, tsukamu tame koko ni tatteru yo 
torimidashite konya kake dashita 
sunaosa wa kazaranai de 
soshite omomuki ita mama, ikinasai 
saishuuteki ni motomeru no ha kimi no ude no naka ga ii 
iganderu koe yo, hai ni natte
Lyrics (English)
Edit
The other side of hope is as expected, emptiness. 
Far too strong for me, the work I accept eats up all my time. 
My malfunctioned head aches severely as the emptiness passes by. 
It must not leave even a speck of ash behind. 
The vertigo is so extreme, that dazzling world 
Sharply runs through my chest. 
Scattering about distracted, I cannot sleep tonight; 
My chest is creating a stir. 
As for trying to swim half in doubt, 
It is not so bad, deep in all these lies. 
No matter the place, I myself still never change. 
Ordinarily happy, ordinarily living, but actually what is ordinary? 
The vertigo is so extreme, that gilded world 
We deceive each other becoming enemies; is that okay? 
Scattering about distracted, I slipped away tonight 
Throwing up all those complaints. 
Wanting to cry, however, there is a reason not to; 
It is not yet over inside my dream. 
The vertigo is so intense, that broadened world 
To seize it by all means, I stand right here. 
Scattering about distracted, I dashed forth tonight 
Do not decorate honesty 
And, appearing just as you are, please live on. 
Finally demanding, what is within your arms is good enough. 
Oh distorted voice, become ashes.
Ad blocker interference detected!
Wikia is a free-to-use site that makes money from advertising. We have a modified experience for viewers using ad blockers

Wikia is not accessible if you've made further modifications. Remove the custom ad blocker rule(s) and the page will load as expected.