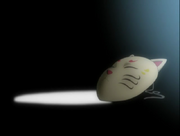 Chogo the Foxfire was a thief who would steal from the rich and corrupt and give to the poor. He retired to own a street stall where he sells drinks and smokes his pipe while listening to Kozenigata's nightly complaining about the detective's failure to capture him.
Biography
Appearance
References
Ad blocker interference detected!
Wikia is a free-to-use site that makes money from advertising. We have a modified experience for viewers using ad blockers

Wikia is not accessible if you've made further modifications. Remove the custom ad blocker rule(s) and the page will load as expected.